Wednesday 31st
The night remained breezy and unsettled but the moths keep on coming. Last nights highlights included our second Dark Crimson Underwing, our fourth and fifth Oak Processionaries, a Scarce Bordered Straw, a Golden Twin-spot and eight Dark Sword-grasses.
Yesterdays arrival of Diamondbacks seem to have move on and there were less than 30 in the trap.
Tuesday 30th
Although the wind increased overnight it was from the south and this coincided with at least 222 Diamondbacks in the trap. There was also our second ever record of Acrobasis tumidana. Oblique-striped continue to appear, this time there were four. Thirteen Garden Tigers were of note these days. A very fresh Rest Harrow indicated the second generation of these is emerging.
Monday 29th
A clear start to the night saw the temperature drop to 11.7°C . There were still 441 moths of 92 species. This included the first Convolvulus Hawk-moth of the year and another Small Mottled Willow. An additional trap held this years first Dusky Thorn.
Sunday 28th
A damp, 'cooler' night down to 16.6°C led to a smaller catch of 349 moths of 69 species in the main trap. There was a very unusual Common Rustic agg. (photo will be in later) and a Broad-barred White.
The trap by the feeders yielded two Scarce Chocolate-tips.
Dave Grundy's moth course was a success with a range of traps yielding a great variety of coastal species including several Oblique-striped.
Saturday 27th
No overnight rain and the temperature held above 19.1°C. The catch increased to 1086 of 130 species. 181 of these were Common Rustics. The highlight was a Goat Moth. Dark Sword-grass and Evergestis extimalis may have been recent arrivals.
Friday 26th
Some of the thunderstorms last night included some torrential rain and despite keeping the temperature above 19.8°C they seemed to lower some moth activity. There were 729 moths of 122 species.
Of note was another Bisignia procerella, a second generation White Colon, 17 Tree-lichen Beauties and another Silver-barred. New for the year were two Webb's Wainscots, Small Wainscot and a Buff Footman.
A Cydia amplana was probably a fresh arrival but 29 Diamondbacks and ten Silver Y's could have been locally produced.
Thursday 25th
Considering the heat of the day it was a surprise the minimum night time temperature was a bit lower at 16.5°C . This drop did not deter the moths and 728 of 166 species were identified. We went one better than yesterdays Dark Crimson Underwing with our first record of Shining Marbled.
It had a supporting cast of Clouded Magpie (our 4th), Small Scallop (our 7th), Dotted and Plumed Fan-foot, Saltmarsh Plume, and two Pigmy Footman. Species linked to migration included 22 Diamondbacks, three Rush Veneers, and singles of Gem and Delicate.
The amazing run of Pine Hawk-moths continued with a fresh example.
Wednesday 24th
With the minimum dropping to only 19.8°C it was not surprising the moth trap was heaving.
There was at least 680 moths of 123 species. The above was the star but it had a strong supporting cast. New for the year were five Tree-lichen Beauties, Small Rufous, Black Arches, Marbled Green, Lesser Treble-bar, Brown-veined Wainscot and the extraordinary shape of Stathmopoda pedella.
Also recorded from a trap by the feeders was Wormwood which we have only seen a few times before.
Twenty-two Diamondbacks and a couple of Silver-Ys may have come in on those conditions.
Tuesday 23rd
Although the daytime temperature gets hotter and hotter the minimum temperature dropped a degree. This did not deter the moths and there were 515 of 116 species in the main trap.
A trap by the feeders held the second record ever of Dark Umber.
The main trap held the biggest variety. Moths originating from migrants included two Diamondbacks, a Silver Y and a Delicate. Our third ever record of Dioryctria sylvestrella was also probably a migrant. New for the year were Ear moth agg. and Flounced Rustic.
Having not had any records of the first generation of Reed Dagger it was pleasing to have a second generation example. Other records of note included Channel Island Pug (the larvae have already been found), Small Bood-vein, Nut-tree Tussock, Vitula biviella and Lunar-spotted Pinion.
Monday 22nd
Whilst I was away the trap was not operated and so it was interesting to see if much had changed in the last week. The temperature dropped to 14.5°C but there were 550 moths of 90 species.
There appears to be a second emergence of hawk moths with two fresh Small Elephants and three Elephants. Langmaid's Yellow Underwing continues to match the similar Lesser Broad-bordered Yellow Underwing with four of each. Tiger moths are also getting going with 26 Ruby and five Garden Tigers. Dark Arches continues to be the most frequent species.
Monday 15th
A slight increase to 15.3°C brought an increase to 465 moths but only 81 species. Small Emerald only occurs once or twice a year. A single Bright Wave kept their incredible run going and a lone Small Elephant Hawk-moth was only just recognisable it was so worn. The pyrail Rhodophaea formosa only shows up very occasionally.
Saturday 13th
A bit cooler last night (down to 13.8°C) and so a drop to 344 moths of 89 species in the main trap was not unexpected. There was an Observatory first Bisigna procerella adding colour to the catch though. With the contents of the other traps there was a good variety on show at the moth night. Plumed Fan-foot, Wood Carpet, Old Lady, and Rosy Rustic were caught in the Whitehouse whilst an interesting Pug sp could be Campanula.
Friday 12th
It got even warmer with a minimum of 17.4°C. This resulted in 920 moths of 137 species worked out so far. The highlight was a Dewick's Plusia. There was another Small Mottled Willow, four Bright Waves, eight Langmaid's Yellow Underwings, two Dark Sword-grasses and singles of Silky Wainscot, Dotted Fan-foot and Evergestis limbata. Dot Moth and Lunar-spotted Pinion were new for the year.
Thursday 11th
The warm nights continue (14.9°C last night) but with any breeze there is having a bit of North in it there are not big numbers of migrants. This is more than made up for by the number of local specialities.
A Small Mottled Willow probably was a migrant but another Golden Twin-spot was probably from the Thanet population. Other records of interest included Poplar Lutestring, Peach Blossom, Pine Hawkmoth, three Pigmy Footmen, three Aphomia zelleri, two Vitula biviella and a Cynaeda dentalis. A Mottled Beauty of the form conversaria drew attention.
Hopefully this good variety will continue with our next moth night coming up on Saturday.
Wednesday 10th
Another warm night (16.6°C) resulted in a catch of 588 moths of 113 species. Highlights included Golden Twin-spot, Silky and Striped Wainscot, five Langmaid's Yellow Underwings, seven Bright Waves, yet another Pine Hawk-moth and another generation of Early Thorn. Migrants included two Delicates and a Dark Sword-grass. Scorched Carpet was new for the year.
Tuesday 9th
After yesterday's technical glitch the trap was back in action last night. The night started clear but cloud did build up and kept the temperature above 15.4°C. It felt cooler and the catch was, in recent terms, 'only' 567 of 88 species. There was the first adult Garden Tiger and Yellow-tail of the year. Delicates continue to show up, with two last night. Otherwise the catch was mostly good numbers of common species and local specialties such as Langmaid's Yellow Underwing and Pigmy Footman.
Sunday 7th
A change in weather was partly welcome after yesterday's overload of moths. Marbled White-spot was caught in the Gullies and adult Coleophora limoniella were flying around Sea-lavender on 100 Acre. There are still lots of Bright Waves along the beach too.
Saturday 6th
Low cloud, humid, and 16.2°C overnight, the trifecta of great moth conditions. And so it proved to be with over 140 species in the carpark trap alone! There were lots of highlights with Scorched Wing, Double-lobed, Grey/Dark Dagger, Swallow-tailed Moth, Mouse, Leopard Moth, Maple Prominent, Lackey, and Small Dotted Buff all new for the year. The latter two are particularly scarce here with the last records in 2013. Further traps in the Elms, Whitehouse, and the Beach brought additional Dusky Sallow, Fen Wainscot, Common Lutestring, Pale Oak Beauty, and the scarce migrant Splendid Brocade new for the year. During the day Channel Island's Pug larva were found on Tamarisk on the sea-front.
Friday 5th
An excellent night once the cloud rolled in. Ghost Moth, Fan-foot, Rosy Footman, Scalloped Oak, Green Silver-lines, Yarrow Pug, and Least Carpet were all new for the year, as was a surprise migrant Small Mottled Willow. Five Pigmy Footmen appeared, another Festoon, the first adult Garden Tiger, and the rare micros Cynaeda dentalis, and Aphomia zelleri. The first Metalampra italica for the Observatory was found during the day by the Cellars.
Thursday 4th
Pearly Underwing and Barred Yellow were the highlights though Common Rustic Agg., Rosy Minor, and Lesser Broad-bordered Yellow Underwing were new for the year. Two Orange-tailed Clearwings were lured to pheromones.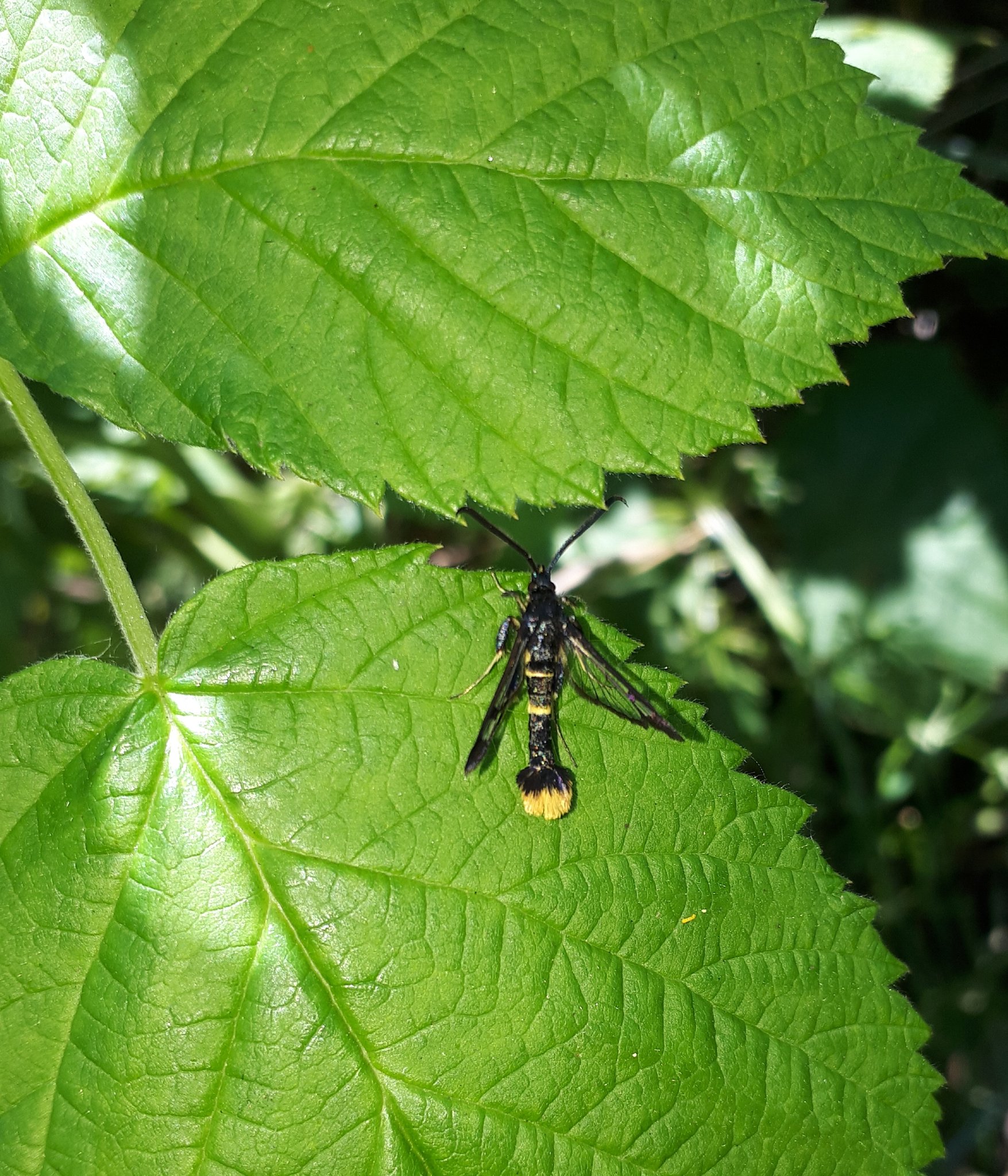 Tuesday 2nd
It remains hot during the day although the night time temperature dropped to 12.5°C.
There was another good catch with 100 species. Not lots of migrants but two more Delicates and three Silver Y's were present. There is also a plume to be checked at a later date. New for the year were Silver Barred and Buff Arches. There was another Pine Hawk and a Bordered White. Another Forester was seen in the day too.
Monday 1st
Another busy night. The highlight was a Golden Twin-spot which was joined by another Striped wainscot. During the day the first wave of Narrow-bordered Five-spot Burnet moths were on the wing with a nice Forester too.