Sunday 30th
A nice variety of 'vismig' this morning with oodles of stuff going north. Of note was a superb Twite which headed over with a flock of Linnets, a Tree Sparrow, 19 'alba Wagtails, five Great Spotted Woodpeckers, and 127 Siskins. A good count of 41 Robins and a small increase in Song Thrushes signalled new migrants in and another haul of 120 Blackcaps and 83 Chiffchaffs were on the Estate.
Saturday 29th
An anti-climax compared to yesterday but a few Bramblings heading north over Pegwell. Three Whinchats were still on Worth but they're definitely being replaced by Stonechats, of which there were 23 today.
Friday 28th
The Warden and a few Trustees suited up and spent the day at Royal St George's Golf Club helping out at their annual Captain's Charity Day, of which this year SBBOT was their nominated charity. It was a terrific event in terms of fundraising but it did mean a few good seabirds got missed. Luckily one brave soul stuck it out at the beach in a stormy north-easterly with great rewards in the form of Leach's Petrel, Spoonbill, two Arctic Skuas, and a large Diver sp offshore. The Leach's Petrel was only our ninth ever record. In the evening a tantalising slim ringtail Harrier moved through Worth marshes heading for Betteshanger. Hopefully it will be re-found in the next few days.
Thursday 27th
It was all about numbers again today, definitely quantity over quality. At least 2,000 House Martins passed north overhead with another 1,500 swarming over the Estate all day and a conservative 4,000 on Worth marshes too. Blackcaps continued to migrate through the Estate with 259 logged plus another 120 Chiffchaffs.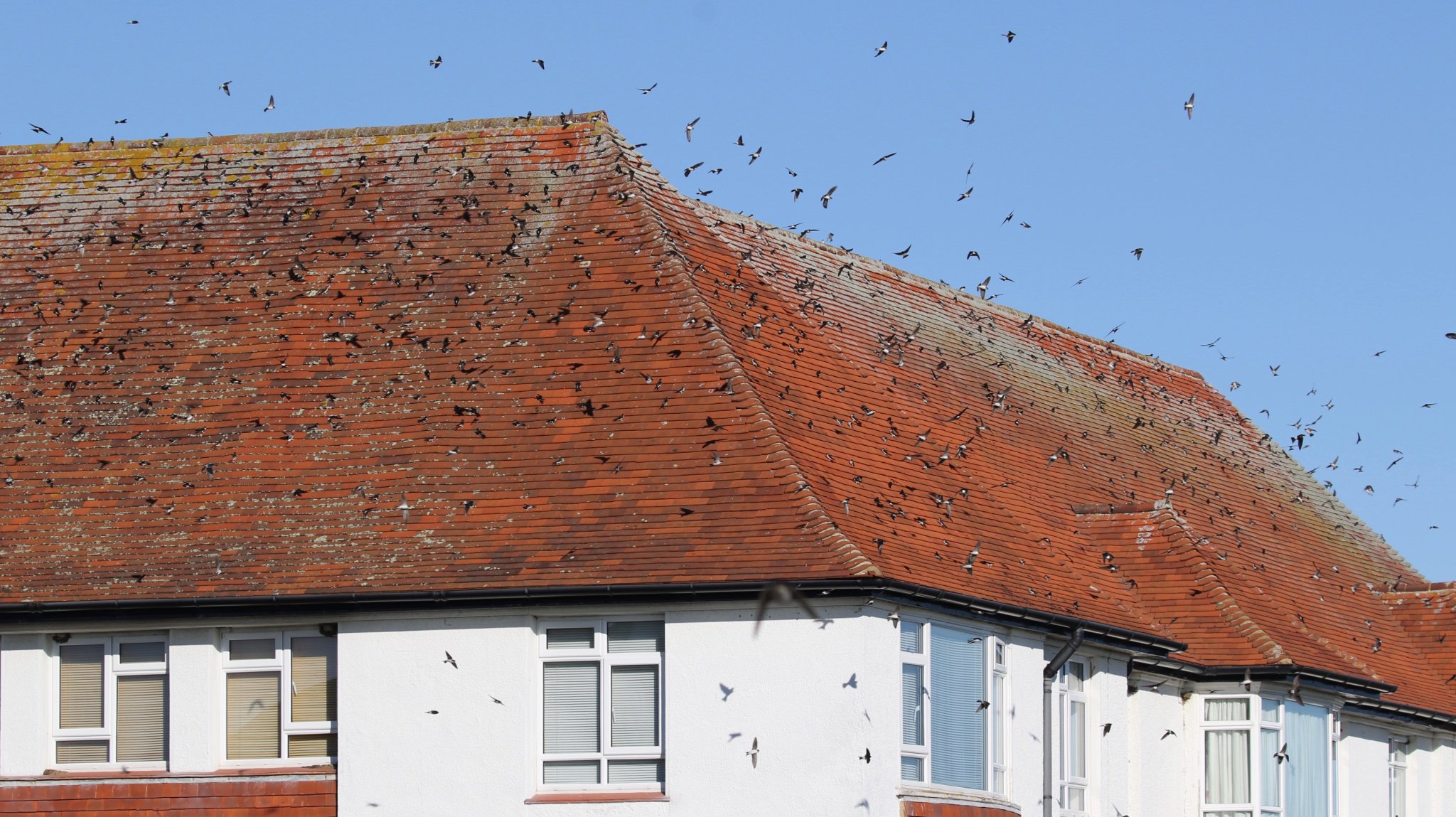 Wednesday 26th
Right from dawn it was clear lots of things were moving today. A surge of Blackcaps and Chiffchaffs through the Estate dominated the bushes with final totals of 206 and 262 respectively. A super candidate for blythii Lesser Whitethroat performed well in the Hawthorn bushes between the Haven and the Oasis and soon after a Tree Sparrow flew north over. At this point House Martins started hurtling through and by late morning over 8,000 had passed, along with at least three Great Spotted Woodpeckers heading north too. A Short-eared Owl was seen briefly on RCPGC, a Rock Pipit was feeding along the jetty opposite the Sailing Club, and one-two Cetti's Warblers were present. As the temperature rose the raptors began to move south including at least two Honey-buzzards and an Osprey.
Tuesday 25th
A crisp autumn morning at the Bay was just a few degrees over freezing but well worth the early start. A nice male Mandarin was on the Green Wall though it was the 20 Pochard which was most notable being our highest count for five years. A female Merlin and 78 Black-tailed Godwits were the highlights on New Downs with four Whinchats the best on Worth. A Cetti's Warbler in the Elms was bang on cue as the first on the Estate this year though outnumbered somewhat by the 89 Blackcaps and 85 Chiffchaffs also recorded. Overnight our first Redwing of the autumn was heard.
Monday 24th
The first day of gloves in a cold north wind. Blackcaps continued their quest for world domination with 181 recorded plus 60 Chiffchaffs, five Whinchats, and over 300 Linnets. At least two Merlins were knocking about and offshore single Great and Arctic Skuas were the highlights along with nine Pintails and seven Eiders. Our first Lapland Bunting of the autumn flew north over Pegwell too.
Sunday 23rd
Near continuous rain kept most people indoors but a hardy few spurred on by tales of sea passage from North Kent ventured out to record a single Arctic Skua offshore, a Little Gull in Pegwell, and a Tree Pipit over the Estate. Was it worth the drenching?
Saturday 22nd
A tale of two species with Meadow Pipits and Blackcaps on the move. Almost 600 of the former heading north overhead whilst at least 137 of the latter were pouring through the Estate bushes. Ringing recoveries from these Blackcaps suggest they are all British bred birds. It is perhaps not surprising that birds from up north filter their way through the south east but what does surprise me is the proportion from the far west, with regular recoveries from Devon and Cornwall. It seems likely the birds are working their way across the south coast of Britain before making the shortest possible sea crossing to France.
Friday 21st
Despite the wind displacing enormous numbers of Shearwaters on the west coast there was no such luck staring offshore here this morning. A decent wander around the Oasis and Whiehouse did deliver the goods however with a solitary Tree Pipit, two showy Redstarts, and small parties of Siskins heading over. The forecast for the weekend isn't looking fantastic but a switch northerlies on the Monday could be very interesting indeed.
Thursday 20th
Another windswept but decent morning this time around New Downs. A flock of 67 Black-tailed Godwits on the northern pool was an excellent count for the site whilst a Nightingale in the brambles by Prince's Reservoir was probably the best bird, with a flock of 18 Mistle Thrushes also notable. On the Estate a Redstart was the best by the Oasis.
Wednesday 19th
Judging by the forecast it looks like 'wind' will continue to be the main topic of conversation on here for most of this week. Us Brits do like a bit of weather talk. Needless-to-say the slog around this morning failed to pick out anything too surprising in the bushes though singles of Yellow Wagtail and Tree Pipit and a flock of three Whinchats were knocking about. Just over 400 Swallows headed north overhead but passage stopped soon after dawn, presumably they had just been roosting somewhere nearby.
Tuesday 18th
Wind speeds built up throughout the night and early morning and so by the end of census i was fairly windswept. The bushes were difficult though the odd 'hueet' of the Chiffchaffs could be made out occasionally. In the end a bit of viz mig along the sea front saved the day with 1,300 House Martins going north. Similar numbers were noted inland over the Green Wall and Worth, with two Wood Sandpipers at the latter too.
Monday 17th
There seemed to be a big clear out in migrants today, especially concerning sylvia warblers, though the Nightingale was still present in the Haven and 16 Whinchats were spread around. For the first time this autumn Chiffchaff was the most numerous warbler with 37 in total. Most interesting was the building numbers of finches with 780 Linnets, 105 Goldfinches, and some of our first Siskins of the autumn. Last but not least was a Spotted Redshank in Pegwell.
Thursday 13th
Though there was no sign of yesterday's Ortolan Bunting it was still another excellent day of migration. Blackcaps continue to take centre stage, particularly on the Estate, and today's total was 188. A supporting cast of 52 Chiffchaffs, two Firecrests, 21 Whinchats, two Redstarts, one Spotted Flycatcher, one Pied Flycatcher, and one Nightingale made for excellent birding in the bushes. Overhead visible migration was noticeable too with 530 House Martins, 130 Meadow Pipits, two Yellow Wagtails, four Grey Wagtails, two Mistle Thrushes, and one Crossbill all heading north, whilst mid-afternoon a surprise White Stork flew over Worth heading towards Sandwich. Unfortunately, the state of it's wings suggests a bird of captive origin.
Thursday 13th
A super morning at the Bay during classic autumn fall conditions. There were many highlights but particularly astonishing was the number of Blackcaps moving through the Estate with a final total of 446! Chiffchaffs, Willow Warblers, Whitethroats, Lesser Whitethroats, and Garden Warblers were well represented too. Without doubt the most notable bird was a first-winter Ortolan Bunting discovered on Worth near the Cornfield Wood. It was favouring the same hedgerow used by the Isabelline Shrike in 2015. Our last accepted record was 23 years ago so it came as a big surprise to hear of another bird on the same day! An individual was watched and heard as it flew north over Pegwell at 07:20. No doubt a different bird. Madness. Continuing with Pegwell and our first Dotterel of the year flew south heading towards the Sampher, the mudflats held four Little Stints and two Curlew Sandpipers, whilst a Merlin was hunting around and a Redstart was in the bushes. Back to the Estate and two Redstarts, two Whinchats, and a Grasshopper Warbler were around the Oasis whilst a Nightingale was trapped and ringed.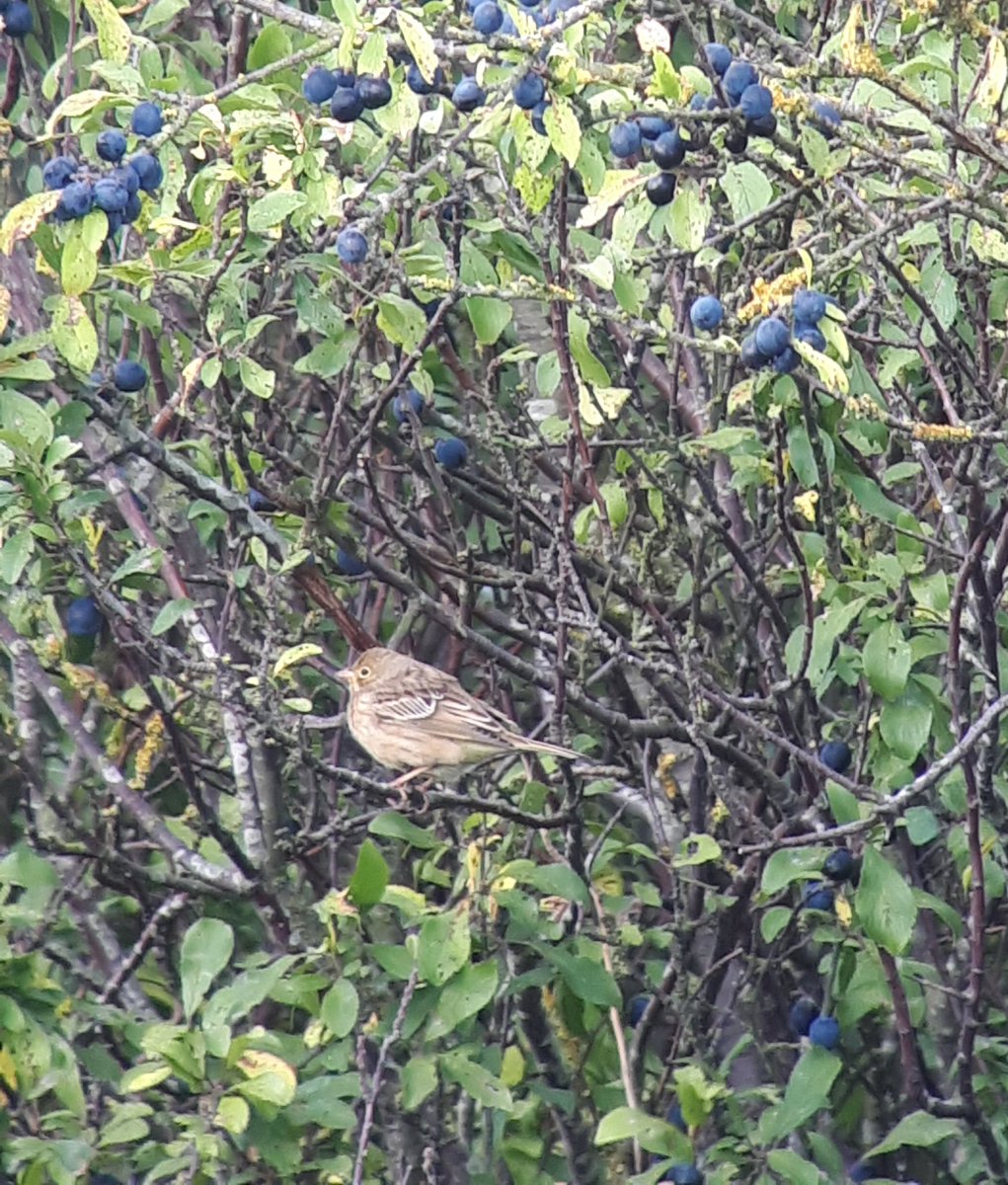 Wednesday 12th
A drizzly morning with just two Tree Pipits, one Redstart, and nine Whinchats of note though a nice build-up of 19 Snipes and 113 Teals were on Restharrow Scrape.
Tuesday 11th
A real blustery morning, but from the south so far from cold. A Shag was the most notable bird offshore and an attempt to bird the windswept bushes scored a Grasshopper Warbler and a Redstart around the Oasis. At dawn over 1,000 House Martins flew north, possibly from a roost somewhere nearby.
Monday 10th
A good deal of movement on the Estate was highlighted by an excellent 97 Blackcaps and a Jay in off the sea. At least 19 Whinchats were dotted about and on Worth the Wood Sandpiper remained and a super flock of 560 Linnets is feeding on the stubble.
Sunday 9th
Co-ordinated WeBs counting in the northern parts of our recording area turned up a group of four Spotted Redshanks in Pegwell but the real highlight came not from wetland birds but from a Honey-buzzard which drifted south over Pegwell late morning. Whinchats continue to be found almost everywhere and today turned up six on the Estate, three on Worth, four on New Downs, and 13 at the Point. A Brambling in Stonelees was the biggest surprise of the day, surely one of our earliest autumn records ever?
Saturday 8th
Today's WeBs count on Lydden Valley was a bit of an anti-climax compared to yesterday's overhead movement. However bits and pieces continue to be found, namely today our first Short-eared Owl of the autumn and similarly two Firecrests, one on the Estate and one at Mary Bax. Linnets have begun their autumn passage through the area and today saw 186 fly north along the shore whilst at the same time combined flocks of 400 birds were found on Worth.
Friday 7th
Another excellent morning of visible migration despite clear sunny conditions. Hirundines piled through from about 06:45 with final totals of 10,900 House Martins, 8,200 Swallows and 2,600 Sand Martins. It was all over by 08:30. Also caught up in the movement were four Tree Pipits, 67 Meadow Pipits, five Yellow Wagtails, three Grey Wagtails, and our first Siskin of the autumn. The bushes around Worth were once again productive for Whinchats with 23 spied along with a single Pied Flycatcher and two Redstarts whilst a Wood Sandpiper and a Pintail were on the floods. The Estate had another arrival of Blackcaps, 104 in total, as well two more Redstarts, a Spotted Flycatcher, 11 Whinchats, and three Wheatears.
Thursday 6th
Low cloud and a light northerly breeze were perfect conditions for our first serious day of visible migration this autumn. In total 2,189 Swallows, 185 Sand Martins, five Tree Pipits, 256 Meadow Pipits, one Rock Pipit, one Yellow Wagtail, and four Grey Wagtails flew north. The bushes were equally busy with an impressive five Pied Flycatchers (who are having a storming autumn at the Bay), one each of Grasshopper Warbler, Hobby, and Redstart, plus at least 16 Whinchats and five Wheatears. In Pegwell a nice juvenile Curlew Sandpiper was picked out amongst the Dunlins, a flock of 33 Greenshanks was notable, and a smart Honey-buzzard soared over.
Wednesday 5th
A grim drizzly start to the day made things difficult but seemed to drop in a few migrants. New Downs once again had a reasonable selection of waders at high tide including an exceptional flock of 100 Ringed Plovers. A single Spotted Redshank was the highlight whilst other birds included two Pied Flycatchers, 13 Whinchats and a Spotted Flycatcher. Like buses another Spotted Redshank appeared on Worth too with the Estate providing two Redstarts and two more Pied Flycatchers, and at least one Garganey was still on Restharrow Scrape.
Tuesday 4th
Overnight the cloud crept in bringing us a very grey and cool morning. Though full of optimism at what could have been grounded it didn't take long to realise that there had been a major exodus of birds from the bushes. Most warblers had departed leaving us with one Redstart in the usual Oasis haunt. Two Crossbills dropping in briefly provided the day's interest though they too mooched off, later seen heading over Worth. A small but noticeable increase in offshore passage consisted mostly of Teals and small mixed wader flocks, no doubt linked with Sandwich Bay appearing in one of this month's birding magazines as a 'top-ten sea-watching site'. Worth was the place to be though this morning with the aforementioned Crossbills as well as Wood Sandpiper, Garganey, Marsh Harrier, Redstart, two Whinchats, and two Grey Wagtails. Later in the day a Manx Shearwater glided past offshore, only our second record this year.
Monday 3rd
A pleasant morning in the brilliant sun once the dawn's fog had burnt off. Three Redstarts were again favouring the Hawthorns around the Oasis and a Grasshopper Warbler was nearby. Another Redstart was calling from King's Avenue and an adult Shag offshore was our first of the autumn. Another harbinger of autumn came in the form of four Grey Wagtails over Worth in the morning too.
Sunday 2nd
Three Redstarts and a Spotted Flycatcher were showing well in the Oasis area throughout the day whilst 11 Whinchats were in Restharrow Dunes, and a bit of viz-mig included 13 Buzzards, 60 Sand Martins, and the autumns first Grey Wagtail.
Saturday 1st
A warm calm day with plenty of coverage throughout the recording area. Worth continues to be a magnet for Whinchats with 29 at least morning plus six Wheatears. The Estate Long-eared Owl was seen briefly and a Spotted Flycatcher too but Blackcaps were most common in the bushes with 61 in total. Pegwell produced a Spoonbill, our first Wigeon flock of the autumn, and juvenile two Curlew Sandpipers.