Wednesday 31st
A nice variety today with a ringtail Hen Harrier hunting around Restharrow Scrape and the Estate, a Merlin over the Whitehouse, and another Long-eared Owl on Worth. Another increase in thrushes with Blackbirds clearly on the move, at least 80 were around the Whitehouse, with ten Firecrests and our first Common Redpoll of the autumn too. A dead Knot was an interesting find in the Oasis (Peregrine fodder?), a Water Pipit was on Restharrow Scrape, and a few extra Crossbills 'chipped' over.
Tuesday 30th
A truly atrocious morning with 30 mph northerly gale and torrential rain. The area could do with a drenching though as the levels on Restharrow Scrape have been particularly low this autumn. Amazingly a few determined souls ventured out and between downpours noted a decent variety of waders and wildfowl heading north offshore, whilst the Jack Snipe flock has increased to three on Restharrow Scrape.
Monday 29th
Another mixture of wildfowl offshore this morning though not in the numbers seen yesterday, with only a Red-breasted Merganser particularly noteworthy. Three Woodcocks were flushed on the Estate and there were clear signs of more thrushes and Starlings building. Two Yellow-browed Warblers were in the Haven as usual and at least ten Firecrests were about. A Water Pipit was on Worth again and the two Jack Snipes continue to perform spectacularly in front of the hide at Restharrow Scrape. Surely it is THE place to see and photograph this species in Kent. You can donate to our purchase and development of Restharrow Scrape HERE.
Sunday 28th
A serious gale and promise of seabirds meant all eyes were scanning offshore. A good movement of 935 Brent Geese and 264 Kittiwakes were recorded plus three Pomarine Skuas, one Arctic Skua, one Great Skua, and 17 White-fronted Geese. An adult Little Gull dropped into Pegwell, two Jack Snipes were on Restharrow Scrape, and Estate had two Woodcocks and 70 Goldcrests.
Saturday 27th
A massive thank you to all who donated art, placed bids, baked cakes, and volunteered their time to make our art auction last night go so well. Almost £4,000 was raised to purchase and develop Restharrow Scrape. Good job team! Today finch passage seemed to stop strangely, though at least 15 Crossbills were still noted. Two Shags were off shore along with a spread of wildfowl but the highlight was a late Red-rumped Swallow which lingered over the Observatory at midday!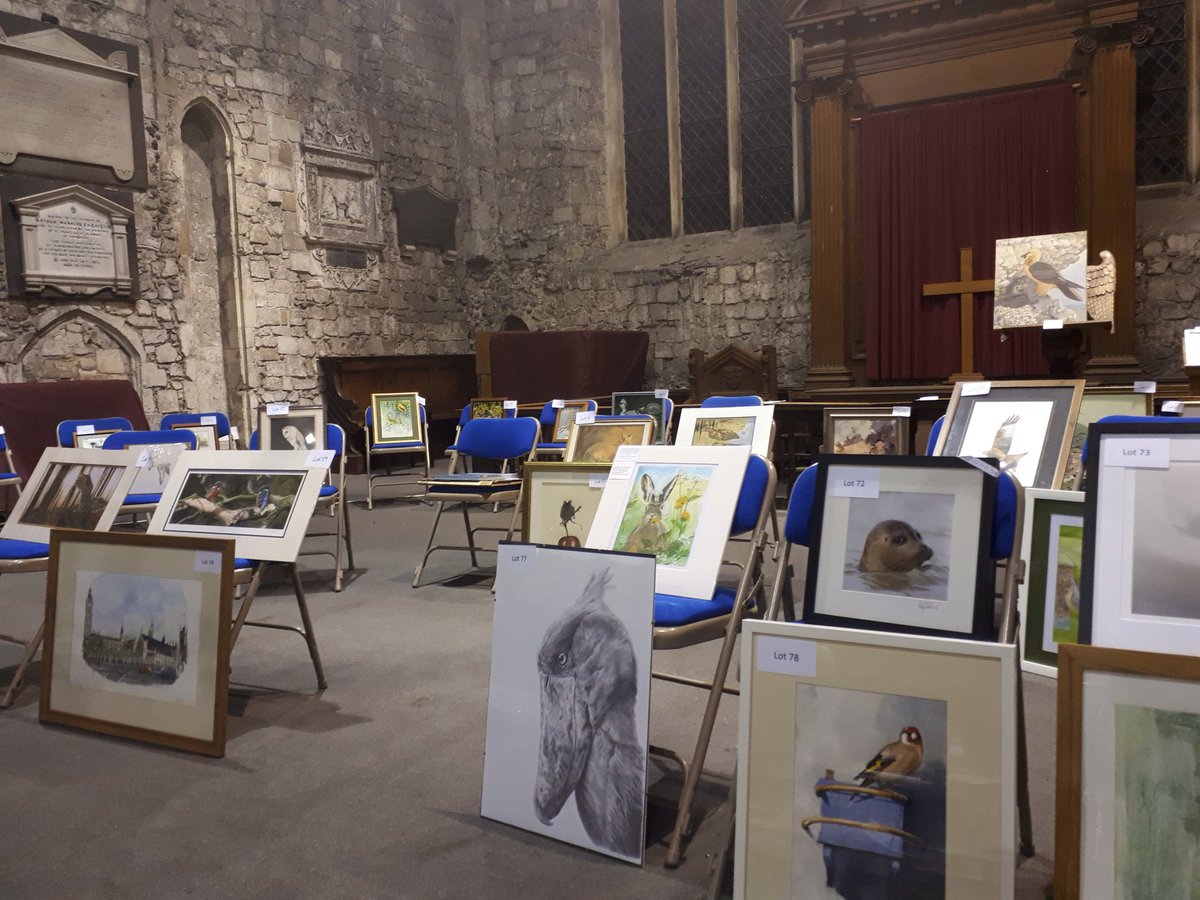 Friday 26th
There was more westerly in the wind today but it didn't seem to halt the passage of finches, in fact it was better. Lesser Redpolls dominated with 346, our highest count this year, with 185 Goldfinches, 138 Siskins, and another excellent passage of 122 Crossbills over. Three House Martins and 12 Swallows were late and a Short-eared Owl flew in off the sea. The Yellow-browed Warbler was in it's usual spot along the Haven and a giant flock of 200+ Stock Doves was a sight on Worth.
Thursday 25th
A cold northerly to encourage overhead movement but certainly hat and gloves weather. Eight Stock Doves in off the sea were unusual, another 50 Crossbills went north, plus 115 Goldfinches, 64 Siskins, and 38 Lesser Redpolls, The regular Yellow-browed Warbler was still present by the gate to the Haven with another trapped and ringed (our tenth this autumn). There were still 20 Swallows about, a Rock Pipit on the Sailing Club jetty, and a clear increase in thrushes, particularly Fieldfare with 200+ on Worth (though nothing compared to the 1,000+ moving over Pegwell Cliff top).
Tomorrow we have our eagerly anticipated Art Auction at St Mary's Church, Sandwich, CT13 9EX. The doors open at 2pm with the auction itself starting at 7.30pm. The catalogue of art to be sold on the day is viewable HERE. A big thank you to all who have donated pieces and those volunteering on the day. We will have other crafts, cakes and refreshments available on the day and i look forward to seeing many of you there.
Wednesday 24th
More waves of Crossbills north with 140 in total. Fantastic stuff. Quite why no-one else in the country is getting any i do not know. Two Yellow-browed Warblers were on the Estate and our second Richard's Pipit in as many days showed reasonably well as it bounded north overhead. A Lapland Bunting circled Pegwell and a Jack Snipe was at Roaring Gutter on Worth, the day ending with 50 Fieldfares dropping in the Whitehouse to roost; our first decent flock of the autumn.
Tuesday 23rd
An interesting morning dominated by the sound of Crossbills heading north overhead. The birds were moving in a broad front and often inland with good counts coming from Worth and the Green Wall, before filtering down to Pegwell where the biggest numbers were seen. In total over 210 Crossbills were recorded. Pegwell scored with Yellow-browed Warbler and a cracking Richard's Pipit north overhead, whilst the Green Wall had two Bearded Tits near Black Sluice. The Estate had a very late passage of 55 Swallows, a Firecrest, at least two Yellow-browed Warblers, and over 250 Lesser Redpolls. Yesterday's two Goosanders were seen again offshore heading towards Pegwell.
Monday 22nd
A strong wind that frustratingly seemed to be neither great for moving seabirds offshore or finding birds in the bushes. Yet a few interesting sightings kept the ennui at bay. Two female-type Goosanders which meandered north over the houses on the Estate were later seen in Pegwell and a nice drake Velvet Scoter headed north off shore. The Yellow-browed Warbler continued it's residency in the Haven. Overhead a bit of Crossbill passage included 41 over Worth and 33 Pegwell, whilst the latter also held a late Turtle Dove.
Sunday 21st
A typical late autumn day at Sandwich Bay with early morning mist quickly revealing bright sunshine and clear skies. A Long-eared Owl was seen again on the Estate and one of yesterdays Yellow-browed Warblers was still calling away in the Haven with a Firecrest for company. The popular Jack Snipe performed well on Restharrow Scrape again, at least 60 Lesser Redpolls were around, and Worth once again produced a Water Pipit.
Saturday 20th
A refreshing walk around New Downs yielded an impressive 75 species. The bushes around New Downs New Pool were busy as usual containing a single Yellow-browed Warbler in a small flock of Goldcrests whilst a Jack Snipe was flushed from the pool itself. Six Bearded Tits were pinging to and fro around Backsand Point and a Great White Egret swept past along the river before dropping into a ditch nearby. The North Flood was busiest with 280+ Golden Plovers, 250+ Lapwings, 37 Black-tailed Godwits, and eight Knot plus a late Greenshank and a vocal Water Pipit. The Estate held a minimum of two Yellow-browed Warblers, singles of Jack Snipe and Ring Ouzel, and four Swallows. All in all a good day. Don't forget tomorrow is the Fungal Foray, hope to see you there.
Friday 19th
Though we havn't hit those heady heights as our friends down the road at Dungeness it was Great White Egrets galore for us again today. Following on from the seven on the 17th today we had another four today. Two were seen heading inland through Pegwell, one flew in off the sea with 11 Little Egrets and south over Worth, where another was seen before heading north. With other records recently such as nine in off the sea at Dungeness, one in off at Foreness, and three in off at St Margarets, it makes me wonder what is going on in the Egret world currently?
Away from Egrets there was still plenty to talk about from a Long-eared Owl seen briefly on the Estate at dawn to the first arrival of Goldcrests this autumn, with 94 in total. Vis mig was much improved in the northerly winds with 630+ Siskins, 29 Bramblings, and our first batch of Lesser Redpolls north. Two Jack Snipes were spotted on Restharrow Scrape whilst Pegwell also delivered a first winter Yellow-legged Gull and strangely six Barnacle Geese.
Thursday 18th
Chalk another one up to Mr Davies. This time a fine Great Grey Shrike roaming about between Roaring Gutter and the railway line on Worth. Our first record since the excellent autumn of 2015.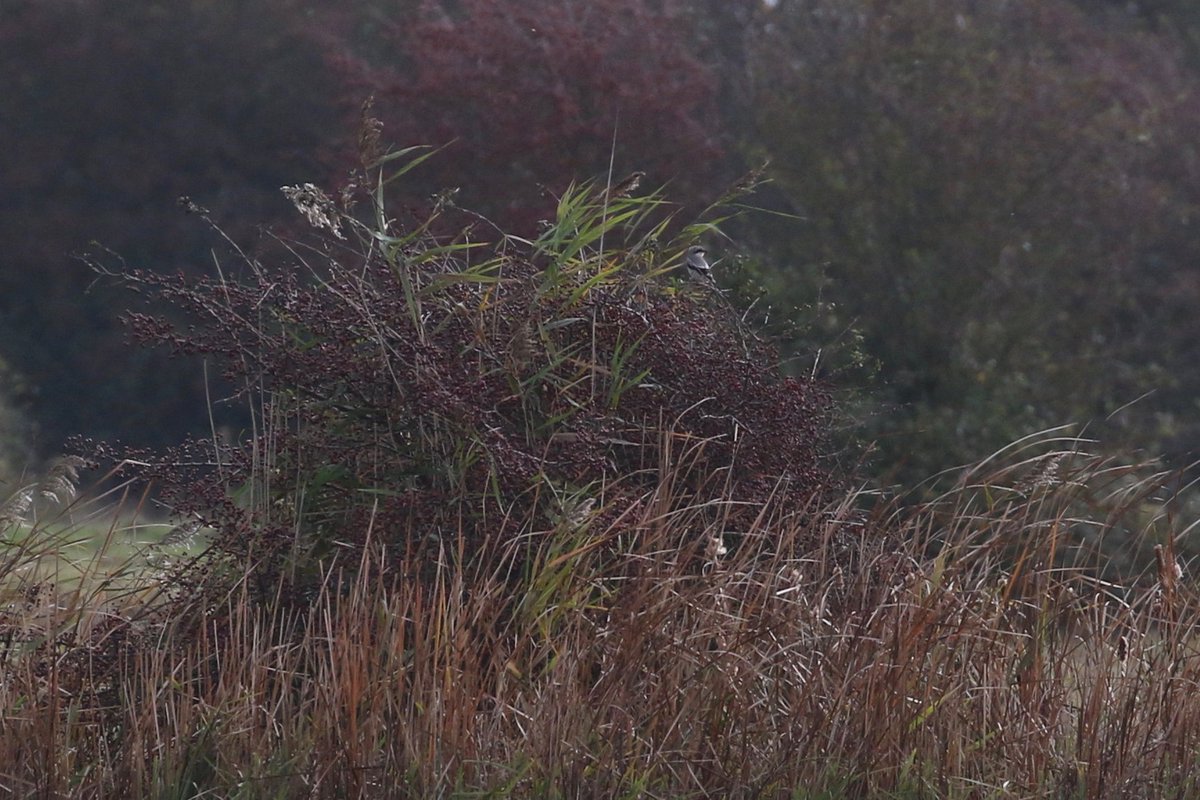 Wednesday 17th
An astonishing flock of seven Great White Egrets which came in off the sea at Pegwell and continued inland. No doubt one of the highest, if not THE highest, counts at Sandwich Bay. Elsewhere it was quiet with just a Merlin on Worth, a Firecrest on the Estate, and a late Whimbrel in Pegwell.
Tuesday 16th
A warm southerly breeze brought all kinds of interesting moths but isn't necessary conducive for avian migration. A Yellow-browed Warbler was at the Chequers but there was no sign of yesterday's highlight in Waldershare Gully. Elsewhere a Ring Ouzel was in Middle Field, two Firecrests were about, and a Jack Snipe was on Worth.
Monday 15th
A Yellow-browed Warbler almost evaded detection all day before revealing itself in the carpark in the evening. However the day was mostly dominated by a frustrating pale warbler in Waldershare Gully. It's plain plumage, phylloscopus-like structure, but hippolais-like movements led us to the identification of Booted Warbler. It's ability to melt into it's surroundings and go missing for hours at a time infuriated most present though a few photographs were taken, and hopefully these will confirm the record.
Sunday 14th
A good venture around the northern reaches of our recording area in the name of WeBS. Prince's Beach and 100 Acre produced a Jack Snipe and a good count of 70 Reed Buntings, whilst five House Sparrows in the Sea Buckthorn was unusual. A flock of 11 Bearded Tits on New Downs was the highlight there though amongst the wildfowl present a lowly Brent Goose stood out. Elsewhere three Yellow-browed Warblers and four Firecrests were on the Estate, the Cetti's Warbler was again at Restharrow Scrape, and a lingering Whinchat and Hobby were around Mary Bax.
Saturday 13th
It's been a few days of strong southerly winds and a lot of hard work. Today at least two Yellow-browed Warblers were calling in the Oasis area again but a trek around the marshes of Worth for Lydden WeBS produced not more than a Whinchat and a small increase in thrushes.
Friday 12th
Despite the windy conditions a juvenile Red-footed Falcon showed well on Worth for a short while, a Great White Egret flew south over Sandwich and then Worth continuing on towards Ham Fen, and a Yellow-browed Warbler was in the Oasis.
Wednesday 10th
It took a while for the early morning mist to burn away but once it did it was another lovely day on the Kent coast. A wander inland around the paths on the Green Wall produced Brambling and handfuls of Siskins and the reed bed bordering the river contained a flock of at least three Bearded Tits. Their calls seemed to follow me along the river, whether it was one mobile group or multiple groups in the area i'm not sure, but i know a few flocks have dropped into Pegwell in the last few days too so they're certainly on the move. On the way back from Black Sluice (near the Polytunnels) towards the entrance to Royal St George's Golf Course a nice male Ring Ouzel burst into song from the hawthorns on the left before heading off towards New Downs. The Estate once again monopolised Yellow-browed Warblers with perhaps up to eight in the area, most of which around the Oasis/Haven/Whitehouse.
Tuesday 9th
It felt more like mid-summer out there today with the bright sun staring down at us. The lovely conditions seemed to hamper passage though and it was all quiet on the vis mig front. However there were still six of yesterday's Yellow-browed Warblers hiding around the Estate, often their presence only revealed by their piercing calls. A small arrival of 38 Chiffchaffs were joined by a late Willow Warbler too but there's still no sign of Crest passage. At least 20 Snipes were on Restharrow Scrape but yesterday's Jack Snipe couldn't be found.
Monday 8th
An excellent day to liven us weary folk up after yesterday's racing antics. No fewer than 11 Yellow-browed Warblers were spread through the recording area including a minimum of seven on the Estate. However the rarest bird of the day was a Nuthatch discovered in Stonelees, only our eight ever record. A Jack Snipe on Restharrow Scrape was our first of the autumn period, as were two Ring Ouzels in Pegwell, whilst a Water Pipit was in the Downsbridge area. A late Tree Pipit flew over and a Sedge Warbler continued on Worth, a few Fieldfares and Redwings were knocking about, and weirdly 13 Jays flew north. Siskins were most notable though as flocks streamed northwards over the Estate, with a final total of 970.
Sunday 7th
Today we took part in a Bird Race pitting all UK Bird Observatories against each other. The objective is to record as many species as possible in your recording area in one day. Sea passage in the morning was a good start rewarding us with an extremely close Manx Shearwater, northward bound Brent Geese, 608 in total, plus a myriad of other waders and wildfowl and a late Arctic Tern. New Downs contributed two Pintails, Greenshanks, Green Sandpiper, and our first Fieldfare of the autumn. The Pochard flock continued on the Green Wall as well as providing us woodland birds such as Coal Tit and Treecreeper, and our first Water Pipit of the autumn. Five Pink-footed Geese were the stars on Worth and at least 16 Bramblings were logged over the Estate. As is always the case in bird races you miss some key species, in this instance no matter how hard we tried we could not find Bullfinch, Marsh Harrier, Great Crested Grebe, Turnstone, Water Rail, House Martin, or Raven. Thanks to everyone who took part. We shall organise another next year.
Saturday 6th
A really interesting day up until the fog swept in mid morning and seemingly ended everything. Movement started just after dawn as the sounds of migrating Siskins dominated the air. Between 0700 and 0900 at least 440 flew north along with 34 Skylarks, one Rock Pipit, 21 Pied Wagtails and two White Wagtails, whilst ten Blue Tits were clearly 'coasting' along the shore and a Buzzard came 'in-off'. Two Yellow-browed Warblers were the highlight, with one trapped and ringed on the Estate and another in the Great Wood on Worth, where a late Sedge Warbler was hiding too. Additionally two Wheatears, 42 Song Thrushes and eight Redwings were new in and 19 Snipes was an obvious increase on Restharrow Scrape.
Friday 5th
I thought this morning that it's about time a Yellow-browed Warbler appeared and sure enough Pegwell drew first blood with this delightful sprite darting around the Country Park. Ramblings over New Downs produced a Whinchat, five Greenshanks and a Green Sandpiper whilst a Raven flew over the Observatory, the Mediterranean Gull was on Restharrow Scrape again, and a Brambling was on Worth. The gradual build up of winter fare continues with at least 250 Teals, 130 Golden Plovers and 450 Lapwings spread across the recording areas.
Thursday 4th
Conditions would have been similar to yesterday were it not hidden under a blanket of morning fog. By mid-morning all was revealed however and a stunning day it was too. Visible migration seemed a little subdued with just 180 Meadow Pipits north of note. It's been an underwhelming autumn for Meadow Pipit so far and i'm getting the feeling that if a big movement doesn't occur soon then it probably won't happen at all. A walk along the beach from the Sailing Club to the Chequers produced a lone Rock Pipit and an excellent tally of 38 Reed Buntings. Other than one each of Redwing, Coal Tit, and Goldcrest, and 15 Siskins, there wasn't much on the Estate to elaborate on. I'll console myself safe in the knowledge that tonight's talk at the Observatory is on Wetland Birds of Northern Bangladesh. If i squint hard enough i reckon i can envisage them on Restharrow Scrape.
Wednesday 3rd
A perfect autumn morning with golden sunshine and not a breath of wind. A Merlin was the highlight in a walk across the marshes on Worth whilst more finch passage supplied 220 Siskins and our first Lesser Redpoll of the autumn. Three Redwings were new in and a 1st winter Mediterranean Gull popped into Restharrow Scrape.
Tuesday 2nd
Another bout of House Martin migration with 3,800 heading north into a strengthening wind. Goldfinches and Siskins were moving again with 151 and 216 north respectively, whilst 131 Blackcaps and 47 Chiffchaffs were flitting around the Estate. There were bits and pieces offshore too including another Arctic Skua plus two Peregrines and a Kestrel in-off.