Friday 29th
Dense fog until 10am was a bit frustrating. After the sun came out and moved a few Buzzards, Sparrowhawks, and a Red Kite over head. There was no sign of any Garganey on Restharrow Scrape though.
Thursday 28th
A change in the weather today as things greyed over and got progressively windier. The Little Gull was again the highlight in Pegwell with a Caspian Gull and five Mediterranean Gulls also present. A Great Skua was menacing about offshore (as they do) and a/the Hen Harrier put in an appearance near the Toll Gate. On Worth a Ruff dropped in briefly before flying off and four Chiffchaffs were singing, perhaps new in. In the Elms four Siskins were zipping about.
Wednesday 27th
Tropical conditions today. Pegwell was not bad with our resident larophile producing a first winter Little Gull, two Caspian Gulls (adult and first winter), adult Yellow-legged Gull, and nine Mediterranean Gulls. Five Bewick's Swans and a Water Pipit were on Worth.
Tuesday 26th
Not a breath in the air today, it was bliss. Two Slavonian Grebes were in amongst 240 Great Crested Grebes on a mirror-calm sea and our first Egyptian Goose of the year was hanging out not too far from the five Bewick's Swans on Worth.
Monday 25th
The Green Wall was alive with bird song this morning. As my predecessor would've remarked, 'it makes you proud to be British'. Two Treecreepers and a Coal Tit were in their usual spot and ten Cetti's Warblers was a good count. Meanwhile on Restharrow Scrape the two Canada Geese dropped back in again with the Greylags, and on Worth a Raven and a Peregrine flew over, and a Chiffchaff was believe-it-or-not… chiff-chaff-ing.
Sunday 24th
More fog rolled in overnight and when dawn broke you could barely see more than 10 feet ahead of you. Around 9am the fog finally lifted and I confirmed the sea was still present. Meanwhile a few Corn Buntings were singing and Siskins flying overhead. No sign of any early Swallows though despite reports along the south coast.
Saturday 23rd
A Merlin and two Pochards on Worth were the best finds in a morning of fog.
Friday 22nd
Despite the fog descending at dawn it was a good morning's wander across New Downs. Our first White-fronted Goose of the year was plucked out of the Greylag flock, a Woodcock was flushed, 11 Avocets were swishing to and fro in the gloom, and two Firecrests were near New Downs New Pool. The latter contribute towards a minimum total of ten Firecrests wintering in the recording area with at least three on New Downs, four on Worth, one on the Estate, and two on the Green Wall.
Thursday 21st
A check on the Bewick's Swan family on Worth confirmed they were still present. Single Firecrest and Raven were further highlights whilst at base a Mediterranean Gull was on the freshly ploughed fields outside the Obs and the first two Canada Geese of the year dropped into Restharrow Scrape.
Wednesday 20th
With the mild spell not showing any sign of stopping the birds are certainly beginning to shift into 'breeding mode'. The Mallards are pairing up and sneaking around in dykes out of a watchful eye, the Magpies are nest-building quietly in the middle of dense brambles and gorse bushes, and today another Corn Bunting was back on territory around Restharrow Scrape singing away. On Worth seven Grey Herons cavorting near the Great Wood were clearly readying themselves for the season ahead. However two Firecrests continue their winter holiday whilst eight Jays and 33 Great Tits were decent counts, and likely still wintering birds.
Tuesday 19th
Another day, another Siskin. This time one over Worth. It may only be a trickle but it's a sure sign of spring passage, as were four Dunlins new in. The five Bewick's Swans were still on the marsh and 200 Stock Doves continue to be seen.
Monday 18th
A hazy start and a touch of coldness in the breeze meant it felt a bit quieter than of late whilst pottering around the Estate. However singing Corn Bunting, mating Mallards, and nest-building Magpies were to remind me that spring is most definitely en route. A Siskin over the Obs carpark was our first record of the year, and so were two Great White Egrets which flew over Stonelees and into Pegwell Bay.
Sunday 17th
The 'other end' of our WeBS counts at New Downs, Pegwell, and the Point took up most of the morning. Four Snow Buntings were still on Prince's Beach and showing well as usual whilst a Jack Snipe was flushed from a boggy patch just inland. A Pochard was on Backsand Scrape and 11 Avocets had returned to New Downs, whilst two Pintails and an adult Yellow-legged Gull were in Pegwell.
Saturday 16th
Out and about on the Worth marshes for WeBS weekend saw the Bewick's Swans still in residence. It won't be long before this family is off with departure dates for the last three years being 16th, 5th, and 19th February. Further findings on our ramblings amounted to six Bearded Tits at Roaring Gutter, a single Water Pipit, three Woodcocks, and a Raven.
Friday 15th
Heavy frost overnight gave way to another really nice day with a gentle south westerly breeze. A few new spring surprises on the Estate included the first singing Corn Buntings back on territory, and strangely a Coot in the Haven and another on RSGGC. Add to that five Woodcocks, five Short-eared Owls, and an impressive gathering of 471 Great Crested Grebes offshore, and it made for a fun morning. There were some signs of movement too with a Goldfinch south along the beach and two Great Tits spiraling skyward and over, suggesting spring passage is not far off. Meanwhile at least eight, possibly up to 11, Bearded Tits were spied along the river on the Green Wall, on New Downs a Water Rail and seven Avocets were the highlights, and a Glaucous Gull came in to roost at Pegwell.
Thursday 14th
A stunning morning that really felt like spring was in the air. The Bewick's Swans were still on Worth and offshore there was another decent count of 270 Red-throated divers and 280 Great Crested Grebes. Two Short-eared Owls were clearly enjoying the morning's sun but it was the six bickering and fighting territorial Coots on Restharrow Scrape that reminded us most of Valentine's Day.
Wednesday 13th
A big increase in birds offshore saw 310 Great-crested Grebes sat on the sea and an impressive 267 Red-throated Divers south, the latter mostly relating to a large ship which went through and disturbed a flock of over 200 birds off the water. Quite a sight. A single Black-throated Diver provided some rarity value too.
Tuesday 12th
Not many people around today with the Warden laid up with man-flu and a few regulars popping over to France for a taste of Black Woodpeckers and Crested Tits. However our regular watcher in the north reports two Velvet Scoters close in past Pegwell and at least three Yellow-legged Gulls in the roost. Meanwhile the elusive Merlin was seen again on Worth.
Monday 11th
The Green Wall was a pleasant walk as always and produced overwintering Firecrest, Chiffchaff, and Grey Wagtail. Whilst on Worth the Bewick's Swans were still present, as was another Firecrest, a Raven flew over, and a Barn Owl was out hunting during the day; an unusual sight here.
Sunday 10th
The five Bewick's Swans were still on Worth marshes though not showing particularly well. As with the Geese earlier in the winter your best bet is to scan from the Drove, the Observatory, or from the public footpath which runs behind the asparagus fields. A Merlin was on the Estate whilst singles of Ruff and Dunlin on Worth were new in.
Saturday 9th
The strong winds continued for another day making sea-watching the only logical use of time. A Great Skua marauding north and south at intervals was presumably the regular bird offshore in the last few weeks. Otherwise a stroll around Worth produced good numbers of wildfowl, particularly Wigeon, and seven Bullfinches was a decent count for the area.
Friday 8th
Another serious stormy south-westerly brought rewards in the form of an adult Sabine's Gull north offshore. Singles of Black-throated Diver, Great Skua, and over 200 Red-throated Divers were welcome fillers in the notepad too. Well worth getting up for.
Thursday 7th
A sea-watch in strong south westerly winds saw over 1,000 Cormorants milling around as usual but more notable were divers with 87 Red-throated south, two Black-throated south together, and one probably Great Northern south. A Great Skua flew through too.
Wednesday 6th
Heavy rain overnight topped up the water levels on Restharrow Scrape and tempted a few more wildfowl for a paddle. The morning's highlight came from Middle Field though where a female Blackcap was spied. We don't get too many mid-winter records and needless-to-say it was our first record this year. The five Bewick's Swans were still on Worth marshes too.
Tuesday 5th
Overcast with a hint of dampness in the air on a long wander across Worth marshes was better than expected. The Bewick's Swan family was hiding near the Sheepfold and a Firecrest was seen again along the Worth track. The first returning 'spring' migrants are beginning to appear inland on the scrapes with a party of Shelducks and a Ringed Plover no doubt prospecting. The real highlight was back at the Obs with two Peregrines tearing chunks out of a Stock Dove right outside the windows. Fabulous stuff.
Monday 4th
The Warden was back in action after a productive weekend away at the Bird Observatory Council meeting in Thetford. On return the weather was truly appalling though and answering emails was top of the agenda.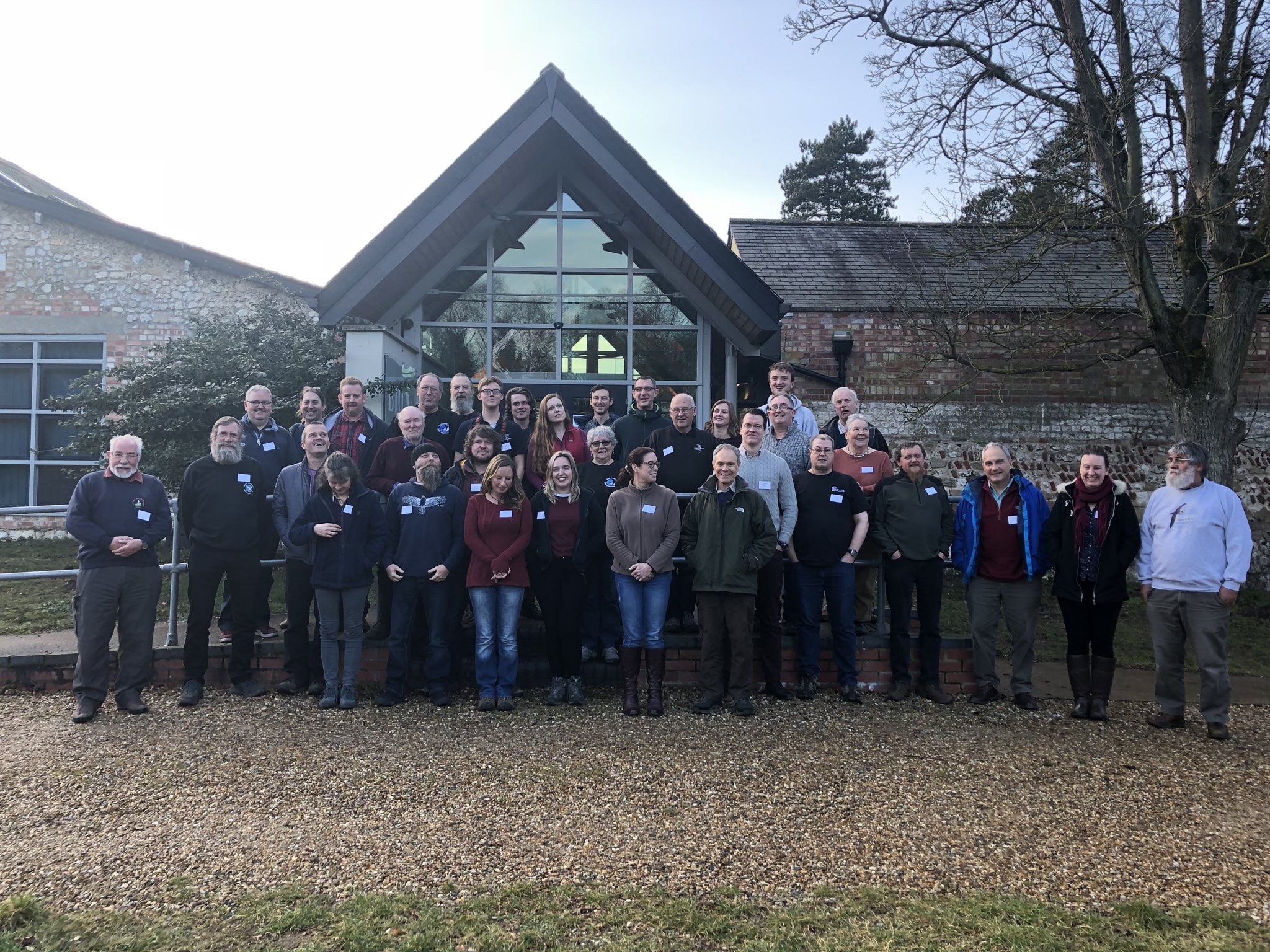 Attendees at the BOC meeting Thetford. How many can you name?
Sunday 3rd
Two Avocets on New Downs were a sign of spring to come. Give it another few weeks and these noisy guys and gals will be all over the place hopefully. At least three of the Bewick's Swan herd was still on Worth viewable distantly from the Drove, whilst one Barn and two Short-eared Owls were on the Estate.
Saturday 2nd
Five Bewick's Swans, three Peregrines, and two Woodcocks were all decent sightings on Worth, as were 89 Red-throated Divers offshore from the Estate.
Friday 1st
The re-discovery of the Bewick's Swan herd on Worth was the main talking point. Quite why they keep changing between us and Grove is beyond me. But it was nice to see them back.