Monday 31st
The light northerly breeze made for a good morning with nine Tree Pipits, three Grey Wagtails, 60 Siskins, and a Crossbill moving north overhead. Whinchats and Blackcaps made landfall on the Estate with 12 and 60 each respectively. A group of waders on the beach consisted of 91 Dunlins, 19 Ringed Plovers, and singles of Whimbrel, Sanderling, and Turnstone, whilst there was a trickle of wildfowl and 94 Sandwich Terns moving north offshore. Worth marshes still provided a good selection of waders with 13 Ruffs and three Wood Sandpipers particularly of note whilst the pools on New Downs chipped in with another three Ruffs, three each of Bar-tailed and Black-tailed Godwits, and a Little Stint.
Sunday 30th
With impressive numbers of birds moving off the North Kent coastline yesterday we had high hopes for a good seawatch from the Estate this morning. Despite the assembled crowd (see below) it was very disappointing with four Pintails and only a trickle of ducks and waders to keep us occupied. Weather patterns can really play a part in what makes a good seawatch and i'm sure as the winds move around this week we'll see more birds moving offshore here.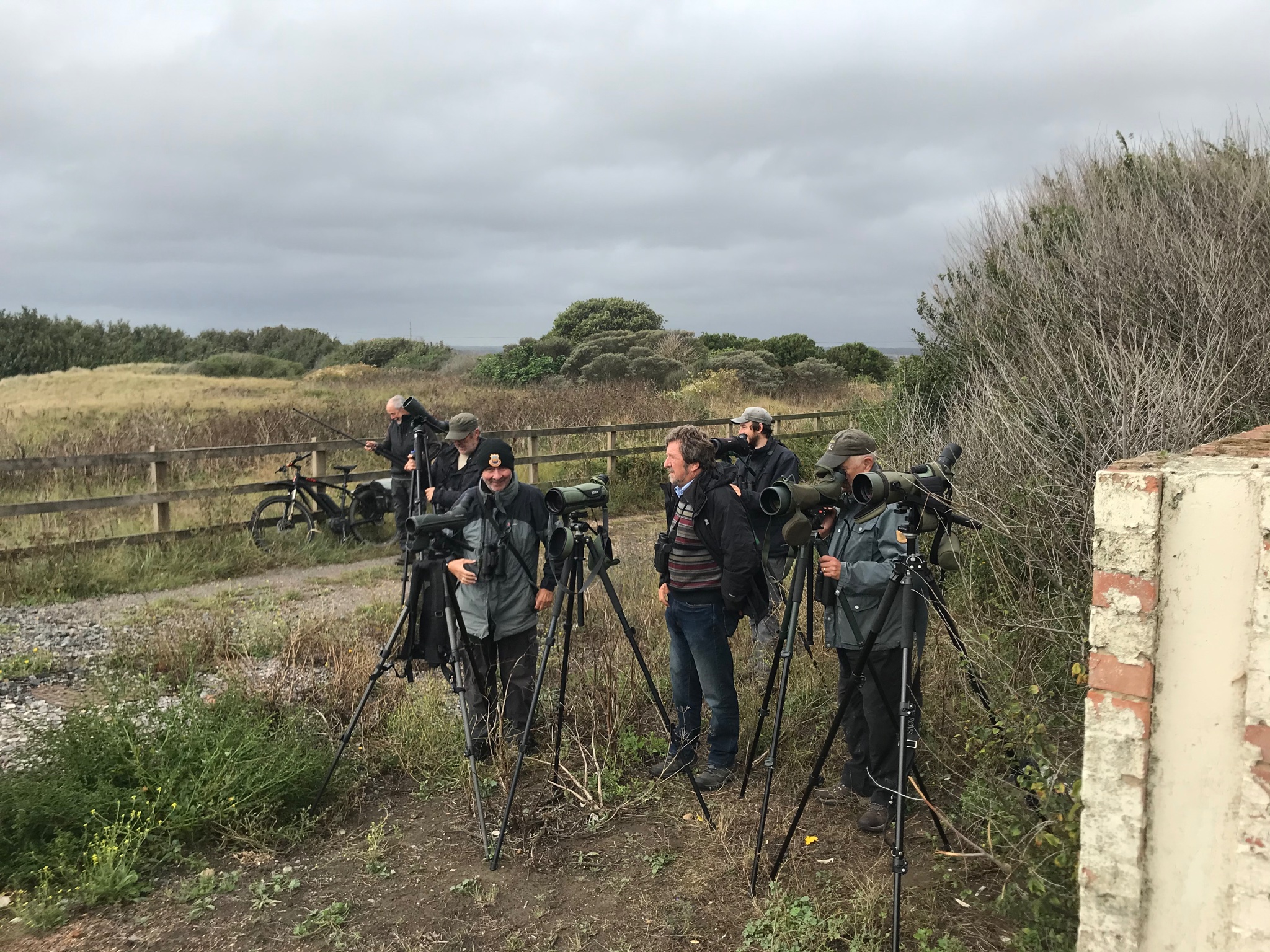 Saturday 29th
Another spell on the sea this morning with Balearic Shearwater and Black Tern of note again, plus two Great Skuas and an Arctic Skua.
Friday 28th
Dodging in an out of heavy showers produced a fair few warblers around the Estate plus two Spotted Flycatchers, two Whinchats, and a Redstart. The pools on Worth marshes were busy with seven Ruffs, four Greenshanks, two Wood Sandpipers, and 11 Green Sandpipers, plus a Dotterel heard calling nearby.
Thursday 27th
The drop in wind overnight meant this morning was the first calm spell for a while. Many birds took this opportunity to move south and at least 70 Blackcaps, four Tree Pipits, and five Whinchats were found on the Estate in the morning. Another three Tree Pipits and ten Whinchats were on Worth marshes, with five Ruffs, three Greenshanks, and two Wood Sandpipers on the pools.
Wednesday 26th
After yesterday's sea-watching session it was disappointing to see so few birds moving offshore this morning. A lone Little Tern heading south was the saving grace though an adult Hobby coming in off the sea was interesting to watch.
Tuesday 25th
The stormy and wet conditions meant birding the bushes was out of the question. Sea-watching was very productive, however, with hundreds of Common Terns going south. There were smaller numbers of Sandwich Tern with them, three Little Terns, and one Black Tern. At least ten Arctic Skuas were in the mix and, best of all, a juvenile Long-tailed Skua which flew south at 10:30am. There was also steady passage of Common Scoter, Knot, Grey Plover, and Bar-tailed Godwit. Another session in the afternoon also added Balearic Shearwater to the mix.
Monday 24th
Two Kentish Plovers, two Curlew Sandpipers, 610 Sandwich Terns, and one Little Tern were in Pegwell Bay at high tide. On Worth there were three Garganey still and a Wood Sandpiper. Meanwhile at New Downs there was a big flock of 433 Mediterranean Gulls sitting in the fields by the South Pool, with a juvenile Little Gull nested in amongst them. There was a good variety of waders on the pools including three Little Ringed Plovers, 157 Redshanks, and a Ruff. There were also three Redstarts, two Whinchats, and ten Yellow Wagtails on offer around the Recording Area.
Sunday 23rd
It was another breezy morning but ten Crossbills flew north over Worth, single Redstarts were on the Estate and Worth, a Whinchat was at Sandilands, and three Wigeons were on Worth. Don't forget that this Wednesday we are holding the second of John Buckingham's talks about 'Birds during Lockdown'. If you are interested in coming along see HERE, and email info@sbbot.org.uk to book a space.
Saturday 22nd
Worth marshes provided Wood Sandpiper, three Garganeys, and four Spotted Flycatchers.
Friday 21st
Three Pintails, three Garganeys, eight Green Sandpipers, five Spotted Flycatchers, and one Pied Flycatcher were on Worth marshes in blustery conditions.
Thursday 20th
There were double-figures of Willow Warblers on the Estate and good numbers of Lesser Whitethroat. Eight Yellow Wagtails were recorded, two on the Estate and six on Worth, with three Spotted Flycatchers also on Worth.
Wednesday 19th
The Estate was still busy with migrants, mostly Warblers and Chats, with a Hobby hunting the lingering hirundine flock, four Yellow Wagtails flitting around, and two Whimbrels and singles of Green Sandpiper and Greenshank. The sight of two Fulmars heading south over the Estate was rather odd. The biggest news of the day came from Worth marshes as a BITTERN was flushed from Roaring Gutter before dropping down somewhere towards the Great Wood, with two Garganeys also present.
Tuesday 18th
There was a significant change as the wind shifted to SW. Although it was still dry and clear there was clearly an arrival of migrants with at least 40 Willow Warblers at the north end of the Estate. The flock of up to 250 Swallows which have been gracing the wires around the Observatory since the weekend suddenly got even chattier, lifted up high, and some seemed to head off. An hour later they or another group assembled on the wires this time accompanied by some Sand Martins and with four Swifts flying above. Not surprisingly there was at least one Hobby on patrol. Although Pied Flycatchers have been regular a Spotted Flycatcher, which swooped down on an insect just a yard in front of us, was a treat.
Waders were noticeable on New Downs with two Black-tailed Godwits, 16 Greenshanks, three Knots, one Curlew Sandpiper, and two Wood Sandpipers the highlights.
Monday 17th
Singles of Whinchat, Pied Flycatcher, and Redstart were on the Estate with four Wood Sandpipers and five Yellow Wagtails on Worth marshes.
Sunday 16th
A flock of three Garganey were on Worth marshes this morning and the ringing team caught the Icterine Warbler again, whilst nocturnal recording picked up an Ortolan Bunting flying over just after midnight.
Saturday 15th
Two Pied Flycatchers were on the Estate and another on Worth marshes (at Roaring Gutter).
Friday 14th
A nice Icterine Warbler was caught by the ringing team this morning. A very welcome surprise and almost four years to the day since our last record. There was still at least one Pied Flycatcher in the Gullies and a light passage of Swallows north.
Thursday 13th
Another hot and humid day out there. Overnight there had been small arrival of Pied Flycatchers with at least seven on the Estate. Over on New Downs there were 112 Lapwings, 75 Redshanks, six Greenshanks, a Whimbrel, five Green Sandpipers, 37 Common Sandpipers, 45 Teals, four Yellow Wagtails, and a Coal Tit.
Later in the evening there was a Black Tern in the tern roost at Pegwell Bay and a mega flock of 13 Egyptian Geese (probably a Sandwich Bay record?).
Wednesday 12th
The morning began with a Redstart in the Oasis plus five Whinchats, a Spotted Flycatcher, and one Wood Sandpiper on Worth marshes. Late morning an Osprey flew low over the Estate heading northwards, and then intriguing news came in of a Beetle impaled on a piece of barbed wire near Sandilands, perhaps a sign of a Red-backed Shrike lurking nearby?
Tuesday 11th
There was no sign of any Pied Flycatchers today with all moving on during the night. There were signs of visible migration from dawn with at least three Green Sandpipers, six Yellow Wagtails, a Tree Pipit, and over 60 Swallows heading north. There were still quite a few Reed Warblers around, plus two Crossbills, 12 Whinchats, and six Wheatears, with two Wood Sandpipers still on Worth and a nice flock of 23 summer-plumaged Golden Plovers viewable from the Drove.
Monday 10th
Rather hot again but still productive. There were three Pied Flycatchers and a Spotted Flycatcher on the Estate, all around the Oasis/Whitehouse area, plus at least five Yellow Wagtails, two Whinchats, and two Wheatears. Worth marshes held ten Green and two Wood Sandpipers.
Sunday 9th
It was an excellent morning with a Quail flying over calling at dawn, at least four Pied Flycatchers on the Estate, plus Redstart, two Whinchats, Crossbill, Turtle Dove, two Yellow Wagtails, and a Raven. There were two Wood Sandpipers on New Downs and at least five on Worth marshes.
Saturday 8th
A Wood Warbler along the Green Wall was an excellent find and the ninth of the autumn.
Friday 7th
You had to be out early today before the heat took it's toll. The first Pied Flycatcher of autumn was in the Haven and a Spotted Flycatcher was nearby in the Oasis for a good comparison. A Crossbill and a Yellow Wagtail flew over whilst a family party of Garganey was a terrific find on Worth marshes.
Thursday 6th
The mixed Sand Martin and Swallow flock continues to build around the Oasis area and there was another arrival of Willow and Reed Warblers. Over on Worth there were five Green Sandpipers and a Spotted Flycatcher.
Members will have noted from the latest Baybites (which has just hit your inbox) that as well as starting the walk programme again we have also arranged our first talk for some while. John Buckingham will be giving a presentation on the 'Birds of Lockdown' in a small Marquee at the Observatory on Wednesday evenings on 19th and 26th August, 7:30pm to 9:30pm, £2 per night. Covid-19 protocols will be in place so bring facemasks, your own refreshments, and remember to keep socially distant, whilst hand sanitiser will be provided. Places are limited to 12 each talk and are first come, first served, so email info@sbbot.org.uk to book a space.
Tuesday 4th
The clear night and northerly breeze meant it was actually rather cool at dawn. It definitely felt like autumn. It didn't last long though as the wind switched around to southerly and the sun beamed down. A Wood Warbler was showing down to just a few feet in Big Gully, and then later, in Waldershare Gully; our eighth of the autumn so far! There were lots of migrant warblers around with Willow, Chiffchaff, Sedge, Reed, Lesser Whitethroat, and Whitethroat, and Blackcap all present too. Also on the Estate were five Whimbrels, a Mediterranean Gull, a Cuckoo, five Wheatears, a Whinchat, and two Yellow Wagtails.
The White Stork was still on Worth marshes and a Spoonbill was in Pegwell Bay.
Monday 3rd
The morning began with news of a White Stork on the deep pool by the Great Wood on Worth marshes. It quickly became apparent it had a blue ring on it's leg which enabled us to confirm it was from the recent Knepp release scheme.
On the Estate there were over 30 Willow Warblers in the Oasis and Whitehouse area, plus a young Coal Tit.
Sunday 2nd
Bright sunshine again and a Wood Warbler again, this one showing intermittently in the Oasis with large numbers of Willow Warblers. Two Wood Sandpipers were on Worth marshes, with two Crossbills over and singles of Whinchat and Spotted Flycatcher. Another Wood Sandpiper was on New Downs pools, along with 125 Redshanks, three Golden Plovers, 16 Common Sandpipers, and three Green Sandpipers.
Finally, many of you will have noticed the recent signage put up by the polytunnels at New Downs. The Observatory has arranged permission for members to continue parking there, though we request that you display your Observatory pass on the dashboard and continue to park carefully and considerately.
Saturday 1st
Yet another Wood Warbler, seen along the edge of the Great Wood on Worth.
It's also nice to announce our popular guided walks will resume again from Sunday 2nd August (tomorrow). Click HERE for information and protocols to follow.