Friday 31st
Light easterlies, sunshine, and lots of birds all made for a fine day in the field. A Tree Sparrow flying south over the Estate was the rarest bird of the day but it was all about warblers once again with 46 Lesser Whitethroats and 80 Blackcaps in total. The Estate scored two Spotted Flycatchers, two Tree Pipits, one Grasshopper Warbler, four Yellow Wagtails, three Redstarts, three Pied Flycatchers, 14 Whinchats, and two Wheatears. Not bad at all whilst Worth had an additional Spotted Flycatcher, Tree Pipit, three Ravens, and 19 Whimbrels. Our two semi-resident Garganeys were still hiding amongst the Teal on Restharrow Scrape.
Thursday 30th
A long walk across Worth marshes was refreshing and actually quite busy for warblers including a minimum of 15 Lesser Whitethroats. Backup included 24 Sand Martins, four Yellow Wagtails, seven Whinchats, and a Spotted Flycatcher. On the Estate a Grasshopper Warbler and two Tree Pipits lurked around the Oasis, and speaking of lurking, the Long-eared Owl was re-discovered in Waldershare Gully. However it wasn't all fun and games. Despite being specifically told not to approach the Owl, as soon as our backs were turned two photographers deliberately got too close. As can be expected the Owl flew off. Often people wonder why this antipathy towards photographers exists at Sandwich Bay. But it is people like this that create the reputation. This is the third Long-eared Owl in recent years to be spooked by overzealous photographers with no respect for other birdwatchers or photographers. I don't think news of the next will be released.
Wednesday 29th
A bit of a wash-out passerine-wise though two Tree Pipits were flushed from Little Gully in the morning. The main attraction was at Restharrow Scrape with a conglomeration of Sandpipers grounded by the overnight rain. Two Wood Sandpipers and 15 Green Sandpipers mingled with 18 Snipes, one Ruff, one Black-tailed Godwit, and the two Garganeys. Further Wood Sandpipers were on Worth and on RSGGC, whilst an afternoon wander onto New Downs added to the smorgasbord of waders with 240 Redshanks, 31 Ringed Plovers, 33 Dunlins, five Common Sandpipers, one Green Sandpiper, 17 Greenshanks, one Ruff, 11 Avocets, two Golden Plovers, and 37 Black-tailed Godwits. Additional species at the Point at high tide included 44 Sanderlings, three Bar-tailed Godwits, nine Curlews, 59 Mediterranean Gulls and 48 Sandwich Terns. Top stuff.
Tuesday 28th
An impressive day on the Estate with good numbers of warblers at dawn including 16 Lesser Whitethroats, five Garden Warblers, 67 Blackcaps, and 29 Willow Warblers. A cracking Long-eared Owl was discovered roosting in Waldershare Gully. It wasn't showing in the open but with patience it could be picked out amongst the foliage. Offshore a Black-necked Grebe drifted south towards Deal and 230 Mediterranean Gulls were loafing around. Further migrants on the Estate included three Tree Pipits, four Yellow Wagtails, a Whinchat, three Wheatears, and a Spotted Flycatcher. A notable increase in Robins to 36 was interesting though perhaps a bit early to be of continental origin. Along the beach by RCPGC there were three Whinchats and three Wheatears whilst up to eight Yellow Wagtails were near the Chequers.
Monday 27th
A switch in the wind direction to northerly was noticeable on the mornings census. Winter is most definitely coming. Providing most interest was an astonishing flock of 530 Mediterranean Gulls on the Estate beach, a new Sandwich Bay record no less. These sudden large arrivals are becoming more and more regular in the area. The bushes were a little windswept but two Yellow Wagtails flew over northwards and singles of Black-tailed Godwit, Ruff and Wood Sandpiper remained on Restharrow Scrape.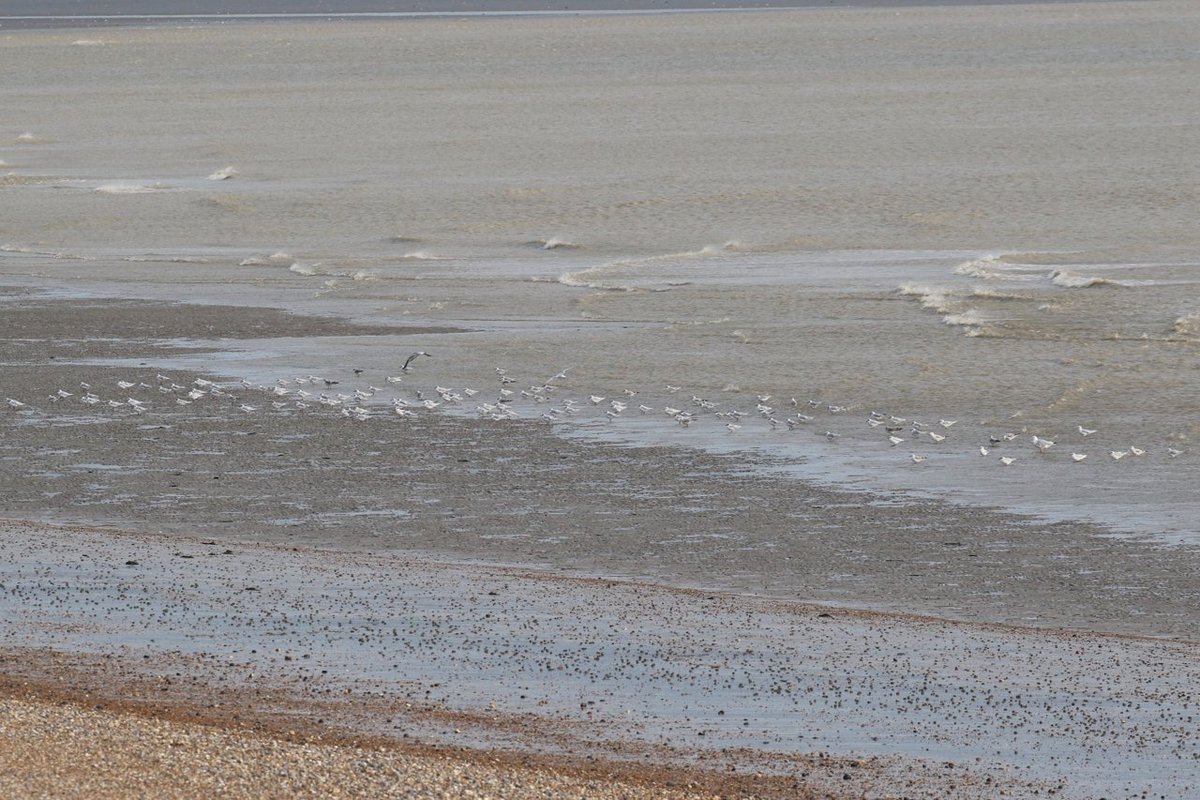 Sunday 26th
What a fantastic Open Day! Not even the weather could stop us. A big thank you to all came and visited and especially those volunteers who worked hard to make it such a special day. Birdwise the clear highlights were in Pegwell with Kentish Plover, five Curlew Sandpipers, one Roseate Tern, two Black Terns, and three Little Terns the stars. On the Estate three Tree Pipits and 79 Sand Martins were notable, and 28 Snipes, one Ruff, and two Garganeys were on Restharrow Scrape. Out on Worth marshes the Wood Sandpiper put in an appearance and a good sized flock of 120 Goldfinches were feeding up in the fields.
Saturday 25th
Walking around New Downs was pleasant this morning with Spotted Flycatcher, 11 Greenshanks and 18 Black-tailed Godwits the best of the bunch. The two Garganeys performed well on Restharrow Scrape, a few Whinchats were on the Estate, whilst over 500 Lapwing in total in the recording area was a big rise in number.
Friday 24th
A very fresh start to the day but quite productive before the rain arrived in the afternoon. The Green Wall scored yet another Wood Sandpiper along with Pied and Spotted Flycatcher, whilst the Wood Sandpiper and Garganey on Restharrow Scrape continue. A decent spell of passage offshore included a nice pale phase Arctic Skua and nine Whimbrels with 230 Swallows. two Whinchats, and a Spotted Flycatcher decent backup on the Estate.
Thursday 23rd
Things continue to trickle along nicely even if the weather is beginning to feel more like autumn. Singles of Pied and Spotted Flycatcher lurked in the Elms/Gullies area though mobile and elusive at times. At least three Yellow Wagtails were on RSGGC and the usual two Wood Sandpipers and Garganeys were still treating Restharrow Scrape as home. Another two Wood Sandpipers and a Garganey were discovered on Worth along with a Raven, 120 Goldfinches, and eight Whinchats.
Wednesday 22nd
The brace of Garganeys and Wood Sandpipers continue to attract visitors to Restharrow Scrape, lets hope they stay and show well on the Open Day on Sunday. Two flyover Tree Pipits were probably the highlight whilst three Yellow Wagtails were mobile around the Estate.
Tuesday 21st
A good day around the recording area with at least four Wood Sandpipers; two on Restharrow Scrape and one apiece on Worth and New Downs.  The two Garganeys remained on Restharrow Scrape and singles of Redstart and Pied Flycatcher were ringed on the Estate. New Downs had good numbers and diversity of waders including 17 Greenshanks along with our first Pintail of the autumn, another Pied Flycatcher, and bizarrely, a presumed escapee Yellow-billed Teal. Worth provided probably the rarest bird in the afternoon with a brief Tree Sparrow that headed off in the direction of the Obs. Keep an eye amongst our Sparrow flocks!
Monday 20th
It's proving to be a decent autumn for Tree Pipits, Wood Sandpipers and Garganeys. Restharrow Scrape held onto it's two eclipse male Garganey's and the showy Wood Sandpiper, with the Estate supplying singles of Spotted Flycatcher and Tree Pipit plus a couple of Whinchats and 270+ Linnets moving around the Sandilands/Mary Bax area. A total of 11 species of wader on New Downs was impressive and included 13 Greenshanks and 16 Black-tailed Godwits.
Sunday 19th
A cloudy, grey start to the day kept the hirundines low over the Estate before things started to clear mid-morning. Things weren't too bad with a Wood Sandpiper and two Garganeys on Restharrow Scrape, a Spotted Flycatcher in Little Gully, a Tree Pipit in the Oasis, and four Whinchats at Dickson's Corner. Worth got in on the Garganey action with a single plus another lingering Wood Sandpiper.
Friday 17th
A decent scattering of warblers on the Estate on a much brighter and warmer day than most of this week. Three Tree Pipits in the RSGGC/Oasis area and another over the Green Wall added to their consistent run this week. The Sailing club area held two Whinchats and two Wheatears whilst a Spotted Flycatcher was in the Elms and a Wood Sandpiper showed well on Restharrow Scrape. New Downs was productive for waders as usual with a Greenshank perhaps the most notable, however a Treecreeper near the Green Barn was the clear highlight.
The day will be remembered mostly though as Ian Hodgson's last day as Warden here at SBBOT. Over the past 11 years Ian has truly done a fantastic job at the helm and we all wish him the best with his retirement. But don't think we've got rid of him completely yet, the word on the street is Ian still plans to pop by each Sunday for a coffee, a catch-up, and maybe a few birds. Stepping into Ian's iconic wellington boots will be Steffan Walton, our current Assistant Warden, promoted up the ranks to now a fully fledged Warden.
Thursday 16th
An overcast and increasingly breezy morning did little to fan the embers of enthusiasm, though the eighth Tree Pipit this week was trapped, the Garganey remained on the scrape and a few Yellow Wagtails were scattered about, but chats and warblers were in very low numbers.
Wednesday 15th
Things continue to pick up gently, with 11 Yellow Wagtails on the golf course, two Spotted Flycatchers in the Elms, two Crossbills that were oscillating between the Haven and Whitehouse, two Tree Pipits and three Whinchats on the shore.
Tuesday 14th
A reasonable tally of warblers on the Estate this morning with Whitethroats most numerous with 39. A Wood Warbler spat bursts of song from the Elms and a Tree Pipit lurked near the Oasis. A Wood Sandpiper was the highlight on Worth and the Garganey continues to find Restharrow Scrape very homely.
Monday 13th
Monthly WeBS count day was notable for a Wood Sandpiper on New Downs though not much else there apart from an incongruous Aylesbury Duck. Pegwell and the Point did well with four Curlew Sandpipers, one Spotted Redshank, 27 Whimbrels, 28 Mediterranean Gulls, 370 Sandwich Terns, 19 Common Terns, three Arctic Terns, and two Little Terns. A Grasshopper Warbler was trapped and ringed on the Estate whilst Raven and Redstart were on Worth. A decent scattering of Whinchats and Wheatears were seen throughout the recording areas.
Friday 10th
Yesterday's rain seems to have stimulated a change in the birds too, with good numbers of warblers on the Estate, particularly Sedge Warblers and Common Whitethroats, a Pied Flycatcher in the Elms, with a Barn Owl drifting across the road nearby, a Hobby flying north and a Tree Pipit in the Oasis. The Garganey also re-appeared on the scrape after two foxes had mooched off to cause trouble somewhere else.
Thursday 9th
The weather has certainly changed, with a slight chill in the NW breeze and heavily overcast, gloomy conditions ahead of rain that arrived in late morning. Highlights were mainly on the shore, where an adult Curlew Sandpiper flew N, as did 111 Sandwich Terns and two Med. Gulls. There was a decent scattering of warblers on the Estate too, particularly Lesser Whitethroats and Garden Warblers, whilst two Yellow Wagtails flew north and four Coal Tits floated around the Elms.
Wednesday 8th
A Grasshopper Warbler was flushed from long grass in the Oasis and a Whinchat at Dickson's Corner broke the Worth monopoly on this species for the autumn so far, but warblers were in pretty small numbers, despite initially overcast conditions. A Kingfisher turned up in the nets, much to everyone's surprise.
Tuesday 7th
A Grasshopper Warbler was flushed from long grass in the Oasis, two Wheatears were on the beach and two Pied Flycatchers were present, while on Worth were six Whinchats and three Black-tailed Godwits.
Saturday 4th
A cloudy morning gave some welcome respite from the summer sun and the perfect opportunity to trek across New Downs. The pools are beginning to dry up (especially the north pool) but the river was productive as usual. A total of 21 Common and two Green Sandpipers, one Ruff, two Greenshanks, 35 Redshanks, four Snipes, and seven Whimbrels were logged across the site. On the Estate at least two Pied Flycatchers and one Redstart remained from yesterday in the Whitehouse/Oasis area.
Friday 3rd
Onwards and upwards, at least five Pied Flycatchers, a Spotted Flycatcher, a Wheatear and a Redstart were found this morning, while on Worth a food-carrying Hobby was the highlight.
Thursday 2nd
Despite continuing cloudless conditions by day and night there was an arrival of 3 or 4 Pied Flycatchers this morning, while warblers appeared to be slightly down on yesterday. Four Yellow Wagtails were on the scrape, where the Garganey was lurking unspectacularly.
Wednesday 1st
The Garganey remained on the scrape, being a tad more adventurous than yesterday, and as well as handfuls of Lesser Whitethroats and Reed Warblers the Estate held 16 Willow Warblers and 38 Whitethroats. However, the best bird of the day was a Common Treecreeper which showed to a few in the Elms, though if your name isn't Steve, don't bother.